Body Scan
WELCOME TO SPARTANS EVOLT BODY SCAN
A groundbreaking company machine that has brought the outdated concept of BMI into the 21st century.
Find out everything you need to know about your body today!
Revolutionising health & fitness!
What is Evolt 360?
The Evolt 360 is a revolutionary device that allows you to find out the exact state of your health.
It's a device that can give you everything you need to know to make sure that you know what is going on with your body, and the best part about it all is that it doesn't require any uncomfortable blood work, or measuring, prodding or anything else; all you have to do is stand on the device and hold two cables for a few seconds, and then you're done, out comes your complete body scan print out.
The information the Evolt 360 can give you is absolutely astounding, but more than that, it is illuminating, providing you with a complete picture on your bodies overall health, reflecting both what you see on the outside, and how things are going on the inside. If you've ever wanted to get a full picture of your health, the Evolt 360 can give it to you.
The Evolt 360 has been used all over the world to help people understand their health to a much greater degree, and now Spartans Gym offers you that same opportunity to utilise this amazing machine.
After the very short process is complete you will immediately be given an easy to read printout that contains a wide array of data and information about your body, providing you with accurate measurements of your musculature, fat stores and other insightful data.
Knowledge is key; armed with the right knowledge you be completely prepared to achieve your goals and be the best version of yourself.
If you're curious or unsure about what the Evolt 360 is all about you can call or speak to our staff at reception. All Spartans staff have their own health reports from the Evolt 360 and can explain to you how the device works.
You'll find out much more about yourself than you might believe…
It's seriously impressive the depth of information the Evolt 360 can provide you about yourself. Find out more by calling the team at Spartans Gym and Fitness on 03 9761 5077.
THE INTELLIGENT BODY SCANNER
The Evolt 360 Ecosystem consists of a body composition analyser, which utilises an eight electrode multifrequency segmental analysis known as Biometrical Impedance Analysis.
The Evolt 360 uses a scientifically validated test known as Bioelectrical Impedance Analysis (BIA). It is considered the fastest, non-invasive method of screening total body composition.
Bioelectrical Impedance (BIA) works by passing a safe, low intensity electrical current through the body via the tactical points on the machine (feet and hands). In very basic terms, the resistance to flow of the current determines the difference between muscle mass, fat mass (including visceral and subcutaneous), water and mineral.
THE SCAN REPORT
In 60 seconds, the Evolt 360 gives users a unique experience and a full report of their body composition.
Get access to over 40 different measuring parameters such as Skeletal Muscle Mass, Total Body Water, Bone Mineral Content, Protein, Body Fat Percentage, Visceral Fat Levels and Segmental Analysis, B.M.R and Total Energy Expenditure, Age Match to Body (fitness age) and much much more!
TRACK ANYWHERE AT ANYTIME WITH THE EVOLT ACTIVE APP
It's not just an App, its a real measure of your success. Once you have been scanned with the Evolt 360 you can use the free Evolt Active App to get personalised and detailed recordings and then track, monitor and analyse your progressive results. Access personalised profile and dashboard via smart phone, tablet or desktop computer. Utilising unlimited cloud data storage, the App provides instant graphs and charts showing real-time results with analytical comparisons between scans.
YOU TRAIN

WE TRACK

At SPARTANS we are motivated by doing our part to combat obesity. We are passionate about educating people about their body and we are proud to provide a platform for people to track their health and wellness goals.

There are dozens of fitness fads and opinions out there, so it is important you are tracking your own progress.. to make sure your program is right for your goal.

ABOUT THE EVOLT 360
OUR MISSION

Educating people with the knowledge of their body composition, providing inspiration from information.

OUR VISION

To be the most trusted company for
peoples wellness journey, by evolving body composition intelligence and providing a complete ecosystem for personal measurement.
FOUNDED IN 2015 BY ED ZOUROUDIS AND KELLY WEIDEMAN

Evolt is a wellness company that is powering connected and digital health. We have developed an end-to-end solution that tracks detailed changes in the quality of the activity, body composition and nutrition as well as sophisticated data analytics for member body composition changes.
THE EVOLT 360
MESSAGE FROM THE FOUNDERS
We get it. We've all been there. We join a gym – sometimes with a friend, sometimes by ourselves, often on January 1 or the first week of spring – and vow to work out every day, eat better and get ready for — summer, a class reunion, a wedding, whatever.
Then two or three weeks later we jump on a scale and see we have lost a grand total of TWO POUNDS! All that sweat, sacrifice, time and we lose the equivalent of a small bag of coffee. You can just feel your motivation and enthusiasm going out the door with you when you leave the gym. What's the point, you think, if all that effort isn't going to make your body look great or help you feel better?
That's where the Evolt 360 comes in! Its state-of-the-art technology will let you know – scientifically, backed by data and easily accessible – if what you are doing is working. Are you doing the right workouts? Are you eating properly? Is your body responding to what you are spending all that time doing?
By analyzing the information provided by the Evolt 360 scan, you and your trainer can provide the answers to these questions and more, making sure you are on the right track with your exercise regimen. You can see immediately if your body fat has decreased, if your muscle mass has increased and, yes, if you've lost some weight. In a nutshell, you will be able to see if your are healthier than when you started a few weeks ago and, if not, how to adjust your program to make sure you are reaching your goals.
Access to this information can motivate you, help you understand your body better and show you areas you need to improve. And all of this information is delivered in an easy-to-understand way that can keep you on the right track to a better, healthier you.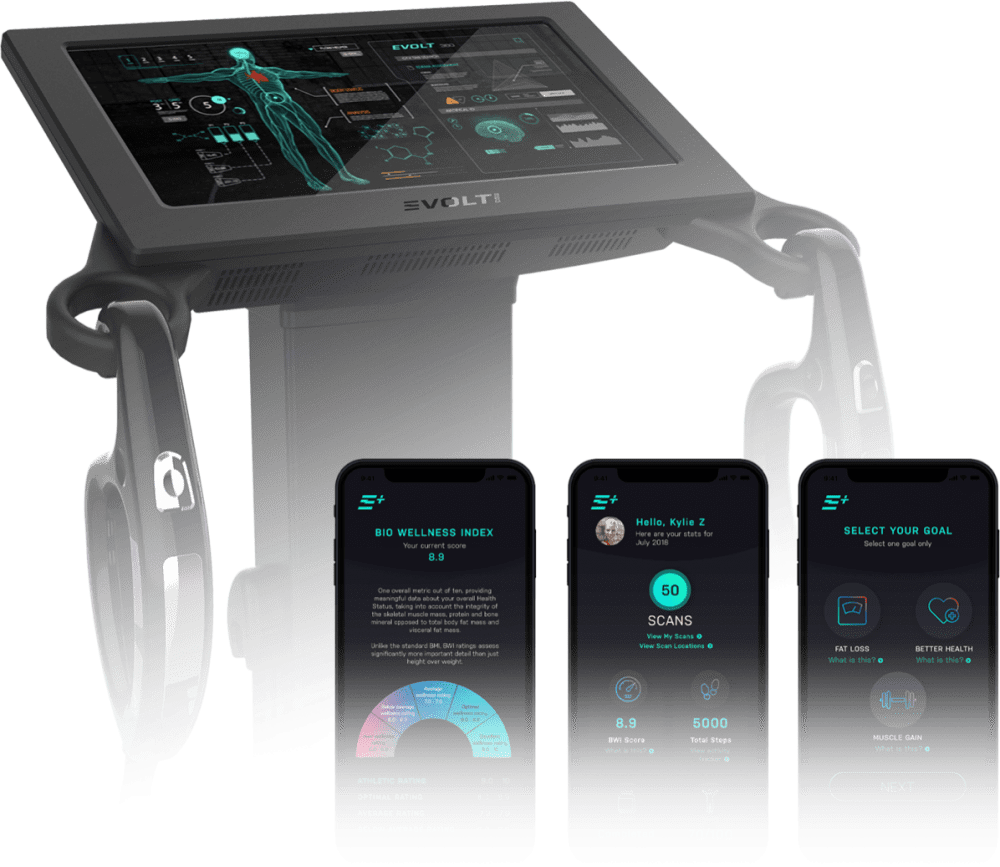 The EVOLT 360
This Intelligent Body Scanner is a
simple-to-use 60-second scan that provides detailed data about your body through more than 40 measurements. It works simply by passing a safe electrical current through your feet and hands.
The resistance to flow of the current determines the difference
between muscle mass, fat mass, water and mineral — a measurement far beyond the one-size-fits-all generic BMI. All readings are specific to you, allowing trainers to better design a health and wellness program.
Find A Scanner Near You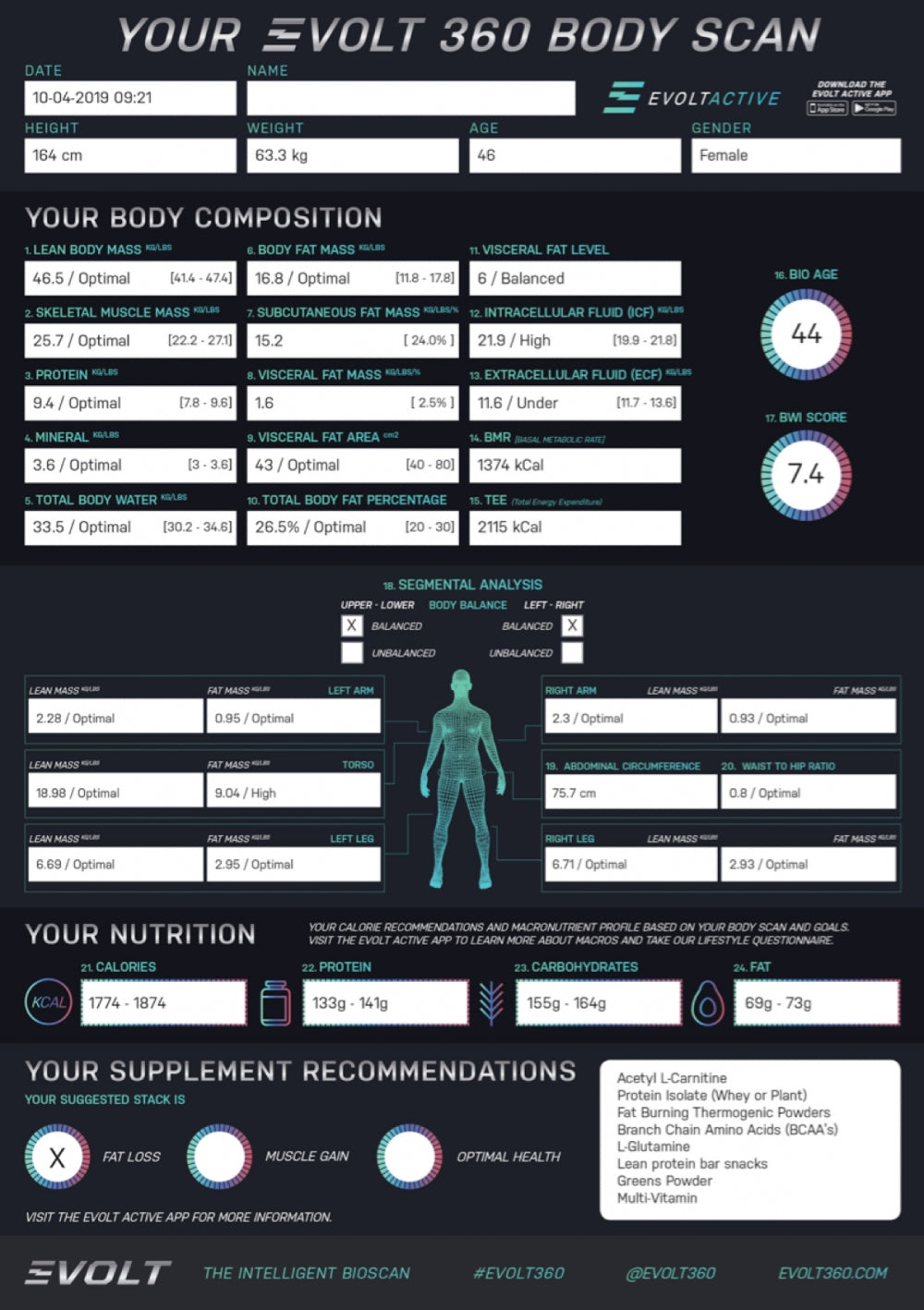 OUR EVOLT360
THE SCAN REPORT

Understanding that healthy is not just a number.

In 60 seconds, the Evolt 360 gives users a unique experience and a full report of their body composition.

- Weight

- Visual fat vs internal fat

- Muscle Mass

- Calories to reach your goal

- Bio Age

There are over 40 measures on the report.

Find a scanner near you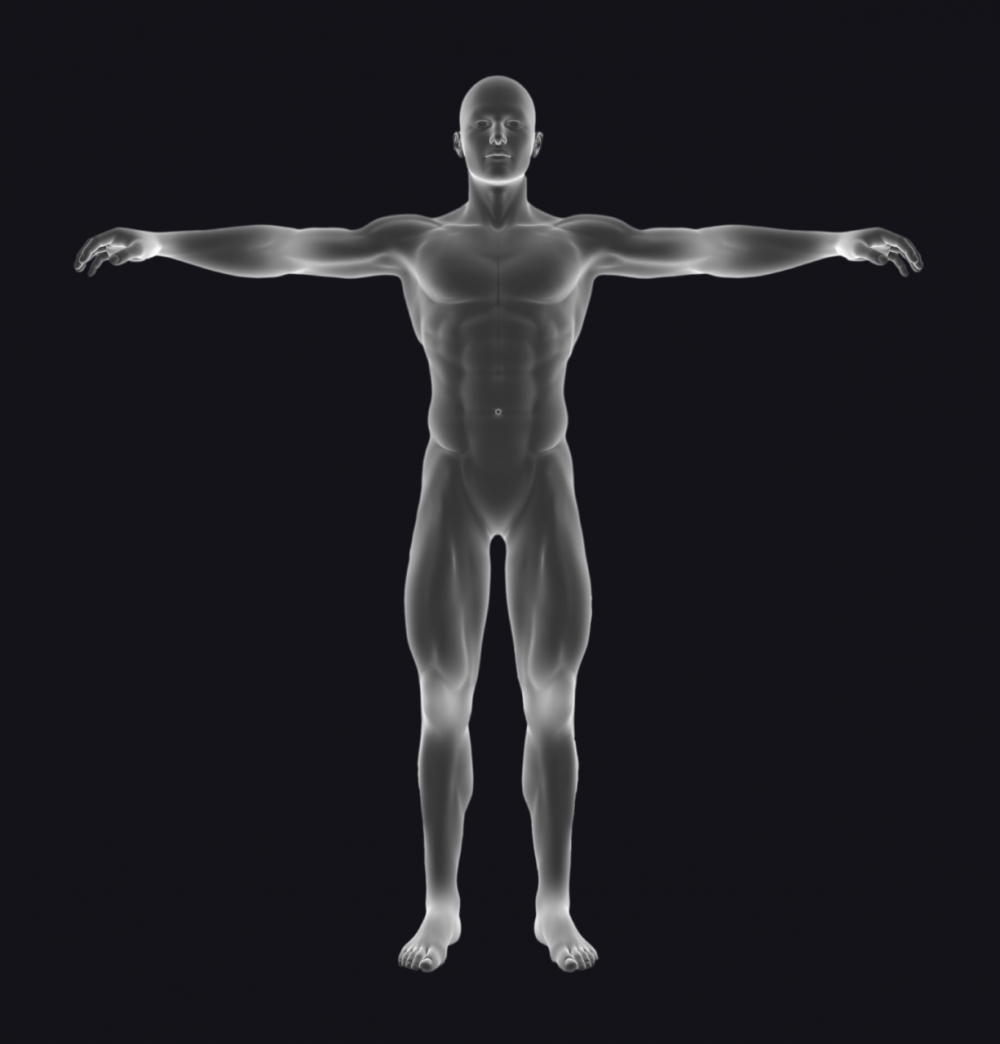 THE SCIENCE BEHIND EVOLT
EVOLT TECHNOLOGY
The Science behind BIA (bio-electrical impedance analysis)
The Evolt 360 technology does not provide clients with a 'one-size-fits-all' generic measurement by using pre-set algorithms that do not account for unique and personalized characteristics of you as an individual.
Based on the most up-to-date scientific information relating to the BIA analysis, the use of algorithm-based measurement is key to maintaining the accuracy of measurement for each individual.
Find a scanner near you
QUICK FACTS
ABOUT BODY COMPOSITION MEASUREMENTS

1.There is no such thing as a "direct measure of body composition".

 

2.  The only way to obtain a 100% accurate measure of body composition is in post-mortem via dissection of tissue of a cadaver.

 

3. All forms of body composition measurements require the use of an algorithm, even though some companies claim they do not.

 

4.The accuracy of BIA
technology, as validated in science, requires the input of five factors —
height, age, weight, gender and impedance.

 

5.DEXA is the gold standard of Bone Density, not body composition.

6.Skin fold
measurements will only detect subcutaneous fat tissue whereas BIA
detects subcutaneous fat tissue and visceral fat tissue so they are
incomparable measurements.

 

7.All BIA technology is validated in science as a repeatable and reliable measure of body composition.

 

8.The accuracy
of BIA technology is subject to the conditions being standardised by the
user (ie. same time of the day, temperature, training status, food
contents & hydration status). The same applies to DEXA.

 

9.BIA technology is
well respected in the scientific community as a reliable and repeatable
measure to track body composition progression.

 

10.Evolt's BIA
technology uses five compartments (torso, both arms and both legs)
rather than a single compartment to offer a more reliable body
composition result.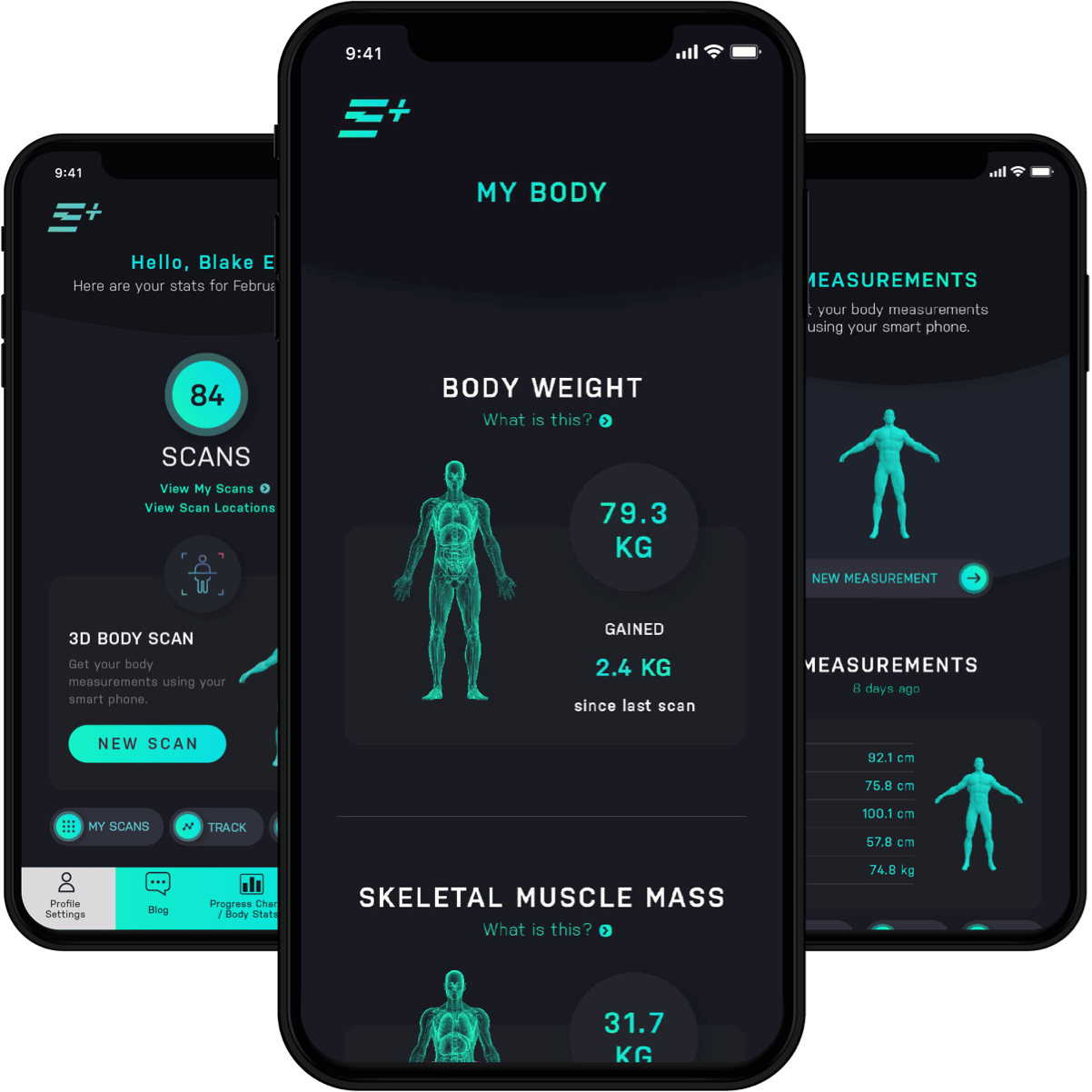 EVOLT ACTIVE APP
TAKE CONNECTIVITY TO THE NEXTLEVEL
The free Evolt Active App puts the scan results in the palm of
your hand. Once scanned on the Evolt 360 Body Composition Analyzer, the app allows individuals and trainers to track body composition and provides macronutrient profiling, healthy lifestyle scoring and
individualized supplement recommendations — all right on a smartphone, tablet or desktop computer. Now users can know exactly how their wellness program is working and how they can make it even more efficient.
- View unlimited body scans
- Supplement and Vitamin profiling
- Macronutrient and Calorie recommendations
- Measure and track your progress with intuitive graphs
- In-App 3D Scanning
- Exclusive partner offers
EVOLT ACTIVE APP
- Scan on the Evolt 360 for your baseline body composition measurement
- Use the Calorie & Macronutrient Calculator to assess your nutrition requirements
- Take the Vitamin/Supplement Questionnaire to see what vitamins may assist you
- Use the overall Bio Wellness Index score to assess improvement via one metric
- Track and graph your progress to assess the quality of change over time
- Take the Healthy Lifestyle Questionnaire to see how your current lifestyle is affecting your health
- Take advantage of Evolt Partners for discounts on products and services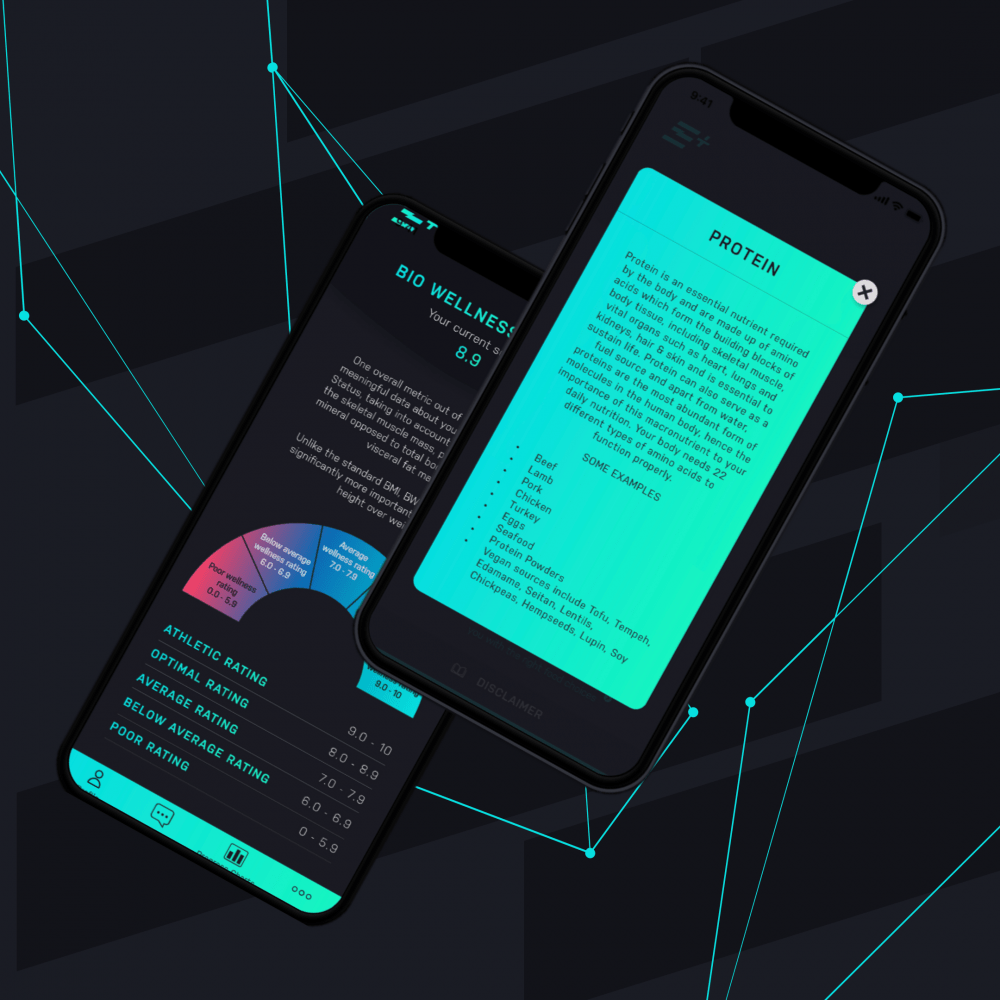 EVOLT ACTIVE APP
HOW IS YOUR CURRENT LIFESTYLE IMPACTING YOUR GOALS
The Healthy Lifestyle Questionnaire on the app can identify areas where you can improve your daily lifestyle habits. Most people don't realise the little things they do everyday can have a substantial impact on long term goals. The Healthy Lifestyle Questionnaire can identify areas for improvement.
Choosing a selection results in a full page refresh.